Year
Change
2022
2.0%
2021
2.0%
2020
1.7%
2019
2.8%
2018
3.1%
2017
5.1%
2016
3.5%
2015
2.0%
2014
1.6%
2013
3.1%
2012
1.5%
2011
4.4%
2010
4.9%
2009
3.9%
2008
-1.7%
2007
7.9%
2006
7.7%
2005
8.4%
2004
12.0%
2003
11.2%
2002
9.8%
1997-2022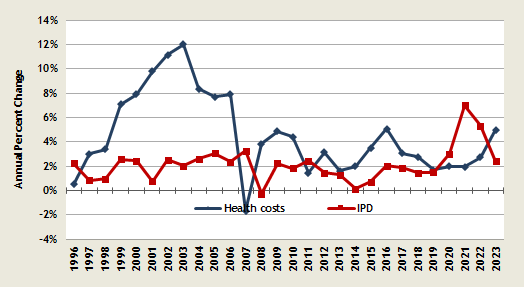 Health care, including employee health insurance and medical assistance, is over 20% of the general fund budget.
The size of the health care budget, combined with rapid growth in per capital health care costs, make this a prime source of pressure on spending.
Except for a brief period in the mid-1990s and during the recession in 2008 and during this recent COVID-19 pandemic period, health care costs have grown much faster than general inflation as measured by the Implicit Price Deflator (IPD) for personal consumption.
Beginning in 2002, cost shifts from employers to employees resulted in much of the decrease in growth of employer medical costs.
More recent employer cost control efforts have included generic drug preferences, care management incentives, high-deductible consumer-directed health plans, and health savings accounts (HSAs).
Data Sources:
E-mail: OFM.Forecasting@ofm.wa.gov
Last updated
Monday, December 13, 2021