Kindergarten through grade 12 (K-12) enrollment
K-12 Enrollment
Including Running Start
Year
October
Headcount
Enrollment
2020
1,078,119
2019
1,115,946
2018
1,107,127
2017
1,103,393
2016
1,092,384
2015
1,079,434
2014
1,067,555
2013
1,055,895
2012
1,047,953
2011
1,045,088
2010
1,045,241
2009
1,039,664
2008
1,032,105
2007
1,026,458
2006
1,026,530
2005
1,025,041
2004
1,017,594
2003
1,014,192
2002
1,009,348
2001
1,006,276
2000
1,000,578
Compared to Age 5 to 17 Population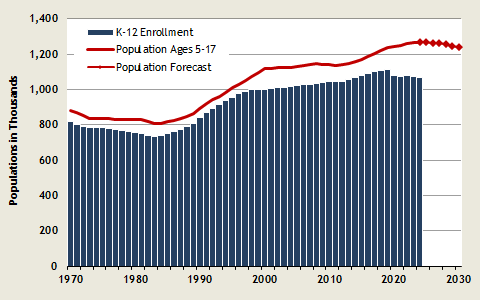 K-12 enrollment usually tracks well with the population age 5 to 17. Moderate variations occur due to trends in the attractiveness of private and/or home schooling.
The number of school-age children increased an average of 12,500 per year between 2012 and 2019.
Enrollment increases should moderate as the school-age population is expected to ease after 2023.
Data sources:
E-mail: OFM.Forecasting@ofm.wa.gov
Last updated
Tuesday, December 29, 2020