State-supported child care
Children Receiving State-Subsidized Child Care
Fiscal
Year
Average
Monthly
Caseload
2022
20,596
2021
19,698
2020
25,200
2019
27,412
2018
29,991
2017
30,767
2016
29,828
2015
29,175
2014
27,605
2013
25,221
2012
25,364
2011
35,030
2010
37,413
2009
61,113
2008
64,419
2007
64,287
2006
65,849
2005
66,861
2004
67,298
2003
71,909
2002
78,280
Compared to Population Age 12 & Under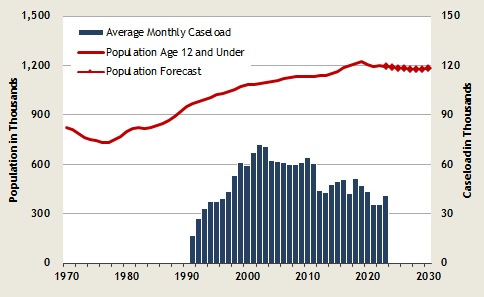 The average monthly caseloads shown here include children receiving subsidized child care in Child Care Development Fund programs as well as Therapeutic Child Care and child care through Adoption Support.
Most state-subsidized child care is for children under 13. Children age 13 to 18 are eligible for subsidies if they are physically or mentally incapable of caring for themselves or are under court supervision.
Declining caseloads in fiscal year 2012 and 2013 were partially a result of policy changes implemented between October 2010 and March 2011.
Increases in fiscal years 2014 and 2015 resulted from the reversal of the 2010 and 2011 policy changes.
With the advent of "stay at home" directives to help mitigate the COVID-19 pandemic, the demand for child care fell in FY 2020 and FY 2021.
With the softening of the directives to help mitigate the Covid-19 pandemic, the number of child care enrolleess increased 4.6% in FY 2022.
Data sources:
E-mail: OFM.Forecasting@ofm.wa.gov
Last updated
Monday, December 19, 2022