Washington's population grows at fastest pace since 2007
FOR IMMEDIATE RELEASE: June 30, 2016
CONTACT: Yi Zhao, 360-902-0592
OLYMPIA, WA – Washington's population grew by an estimated 1.73 percent over the past year — the largest percentage increase since 2007. The number of people in the state increased by 122,300 to 7,183,700, according to annual estimates prepared by the Office of Financial Management.
Migration was once again the primary driver behind Washington's population growth. From 2015 to 2016, net migration (people moving in vs. people leaving) to the state totaled 87,100, compared to 57,600 the previous year. Net migration accounts for 71 percent of the state's population growth this year, with natural increase (births minus deaths) responsible for the other 29 percent (35,200 people).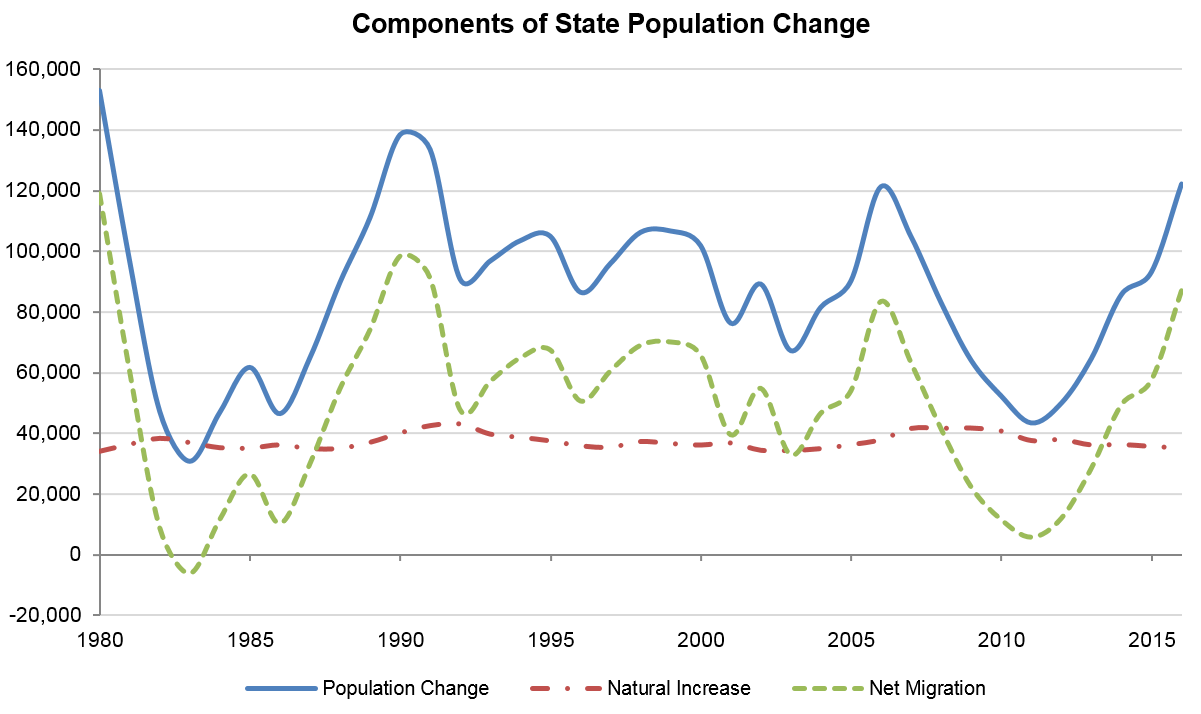 Seventy-eight percent of the state's total population increase occurred in the five largest metropolitan counties — Clark, King, Pierce, Snohomish and Spokane — whose economic activity continues to attract people from out of state. Similar to last year, nonmetropolitan counties accounted for less than 5 percent of state population growth.
The April 1, 2016, population estimate for Washington's incorporated cities and towns is 4,666,800, an increase of 102,400 people over the previous year. Eighty-four percent of the population growth in incorporated areas is due to natural increase and migration while 16 percent (16,300 people) is due to annexation. The top 10 cities for population growth, in descending order, were Seattle, Sammamish, Bellevue, Tumwater, Tacoma, Vancouver, Federal Way, Renton, Everett and Pasco. Renton became the state's eighth city to exceed 100,000 population.
Population in the state's unincorporated areas increased by 19,900 over the previous year. This number would have been 36,100 if not for annexation. The top 10 unincorporated areas for population growth, in descending order, were Snohomish, Pierce, Clark, Kitsap, Island, Spokane, Whatcom, Skagit, Kittitas and Chelan.
Housing growth in 2016 increased by nearly 6 percent from the previous year. The state added 34,400 housing units, compared to a 32,400-unit increase in 2015. The level of housing growth remains below the prior decade average of 43,500 units per year. Statewide, half of all new housing units were associated with multifamily structures. Nearly 73 percent of all new housing is located in the five largest metropolitan counties. King County leads all counties with almost 13,400 new units, or 39 percent of the state's total housing increase. 
Additional information on the latest population estimates for the state, counties, cities and towns.
Printable PDF of this news release with related maps and tables.
Maps
Numeric Change in Population: 2015–2016
Percent Change in Population: 2015–2016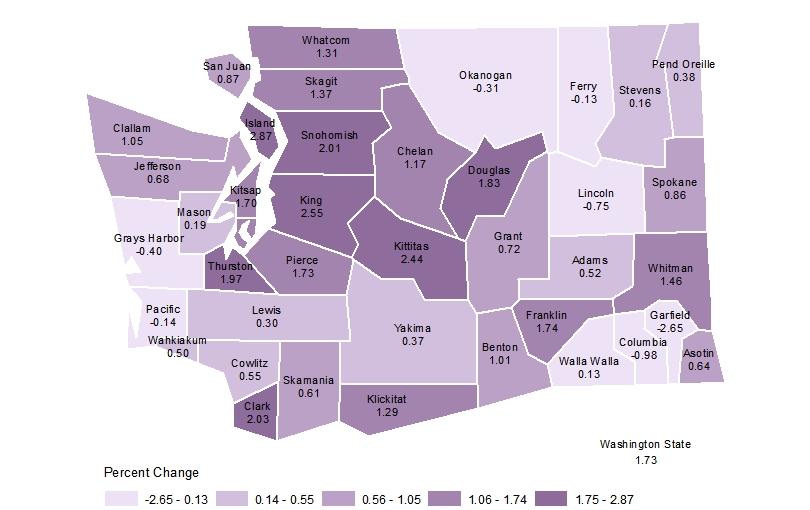 Percent of State Total Population: 2016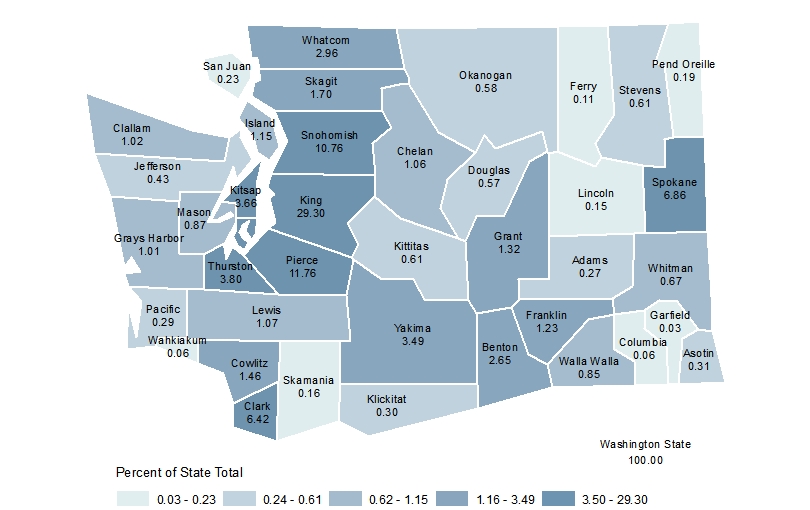 Population Density: 2016