Population growth in Washington remains strong
FOR IMMEDIATE RELEASE: June 30, 2017
CONTACT: Yi Zhao, 360-902-0592
OLYMPIA, Wash. – Washington's population grew by an estimated 126,600 persons, a 1.76 percent increase over the past year — the largest percentage increase since 2006. As of April 1, 2017, there were 7,310,300 Washington residents, according to annual estimates prepared by the Office of Financial Management.
Migration is once again the primary driver behind Washington's population growth. From 2016 to 2017, net migration (people moving in versus people moving out) to Washington totaled 90,800, up 3,700 from last year. Net migration accounted for 72 percent of the state's population growth this year, with natural increase (births minus deaths) responsible for the other 28 percent (35,800 persons).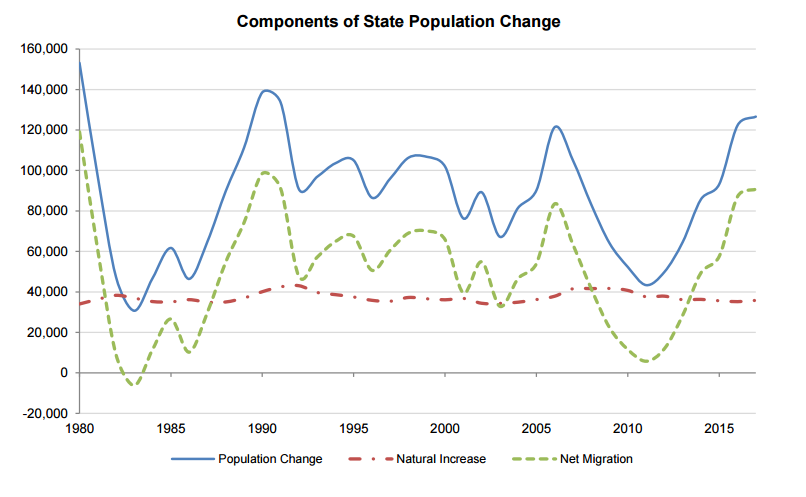 Population growth remains concentrated in the five largest metropolitan counties. Seventy-seven percent of the state's total population increase occurred in Clark, King, Pierce, Snohomish and Spokane counties. Smaller metropolitan counties accounted for 18 percent of state growth, with nonmetropolitan counties accounting for 5 percent.
The April 1, 2017, population estimate for Washington's incorporated cities and towns is 4,752,800, an increase of 86,000 persons from the prior year. Only 2,100 persons were annexed into incorporated areas this year, compared to 16,300 in 2016. The top 10 cities for population growth, in descending order, are Seattle, Vancouver, Spokane, Federal Way, Kent, Tacoma, Auburn, Redmond and Everett. The largest numeric increase in population is associated with Seattle, which grew by 26,900 persons to 713,700.
Population in the state's unincorporated areas increased by 40,600 persons. The top 10 unincorporated areas for population growth, in descending order, are Snohomish, Pierce, Clark, Spokane, Thurston, Yakima, Whatcom, King, Skagit and Kitsap. Snohomish and Pierce counties accounted for 47 percent of the total growth in the unincorporated area population this year.
The state added 39,500 housing units in 2017, compared with 34,400 in 2016, an increase of 15 percent. The level of housing growth remains below the prior decade average of 43,500 units per year. Statewide, more than 52 percent of all new housing units were associated with multi-family structures. More than 74 percent of all new housing is located in the five largest metropolitan counties. King County leads all counties with nearly 14,700 new units, or 37 percent of the state's total housing increase.
Maps
Numeric Change in Population: 2016–17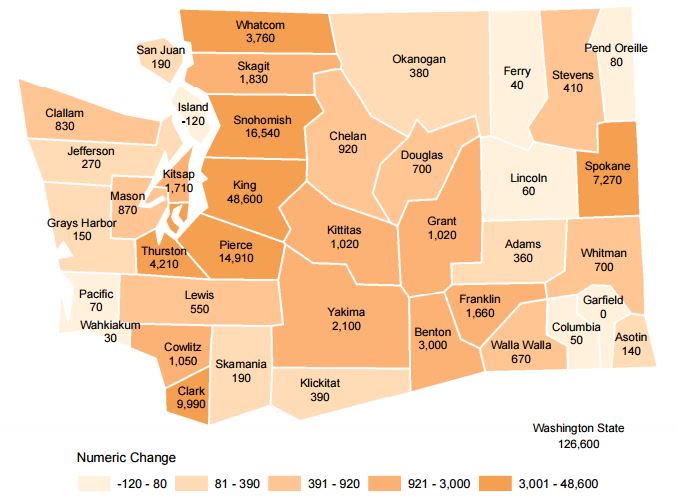 Percent Change in Population: 2016–17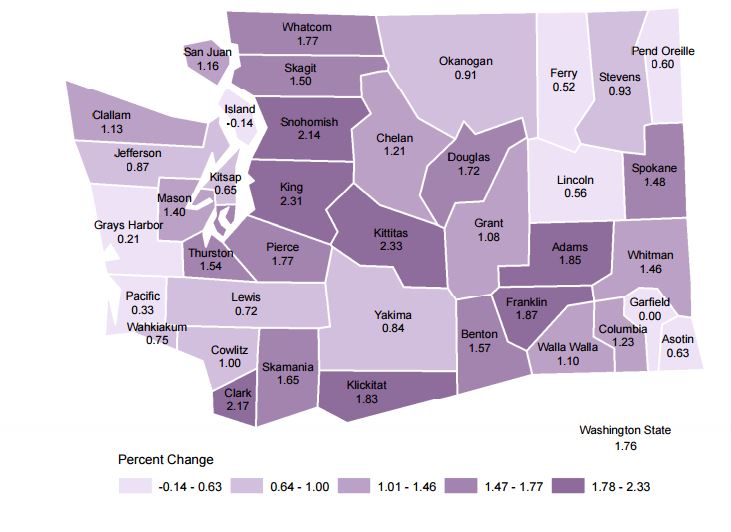 Percent of State Total Population: 2017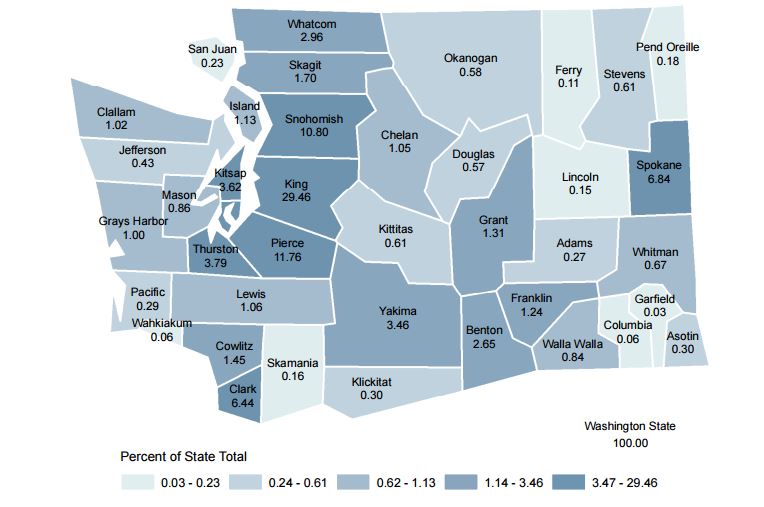 Population Density: 2017