Strong population growth in Washington continues
OLYMPIA, Wash. – As of April 1, 2018, an estimated 7,427,600 people resided in the state of Washington, according to annual estimates prepared by the Washington State Office of Financial Management. The state's population grew by 117,300 persons, a 1.6 percent increase over the past year. While state population growth remains strong by historical standards, the growth rate is down slightly from last year.
Migration continues to be the primary driver behind Washington's population growth. From 2017 to 2018, net migration (people moving in versus people moving out) to Washington totaled 83,700, down 8,700 from last year. Net migration accounted for 71 percent of the state's population growth this year, with natural increase (births minus deaths) responsible for the other 29 percent (33,600 persons).
Components of state population change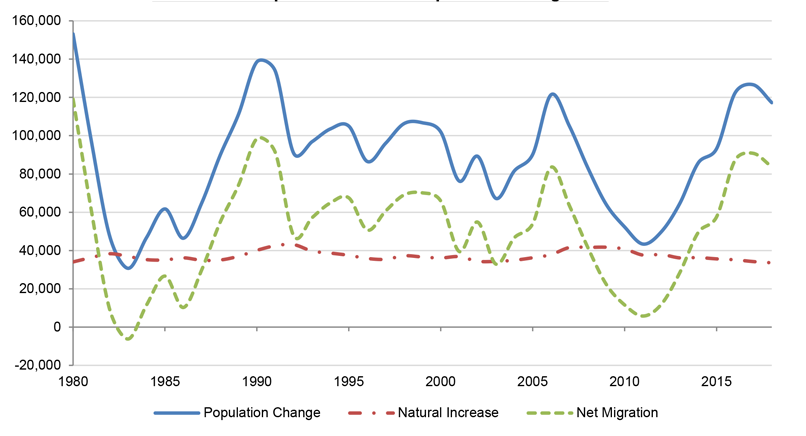 Although population growth remains concentrated in the five largest metropolitan counties — Clark, King, Pierce, Snohomish and Spokane — momentum has shifted to the other metropolitan and nonmetropolitan counties. Seventy percent of the growth occurred in the five largest metropolitan counties this year, down from 77 percent in 2017. Growth in metropolitan counties outside the top five increased from 18 percent of growth in 2017 to 22 percent this year, with nonmetropolitan counties accounting for 8 percent of growth, a 3 percent increase.
The April 1, 2018, population estimate for Washington's incorporated cities and towns is 4,836,500, an increase of 83,600 persons from the prior year, with 6,300 due to annexation. The top 10 cities for population growth, in descending order, are Seattle, Vancouver, Spokane, Redmond, Pasco, Kent, Bellingham, Bellevue, Auburn and Kennewick. The largest numeric increase in population is associated with Seattle, which grew by 16,700 persons to 730,400.
Washington's population has grown by 703,000 persons since the most recent decennial census (April 1, 2010). The state has grown by an average of 87,900 persons per year this decade, exceeding that of 83,000 in the previous decade. King County is the main contributor, with total growth of 259,000 persons over eight years, compared to 194,200 persons between 2000 and 2010.  
The state added 42,200 housing units in 2018, compared with 39,300 in 2017, an increase of 8 percent. The housing stock has grown by an average of 30,000 units per year since 2010, 31 percent below the prior decade average of 43,500 units. More than 70 percent of all new housing this decade is located in the five largest metropolitan counties. King County leads all counties with an addition of 85,500 housing units, 36 percent of the state total. Statewide, more than 52 percent of all new housing units were associated with multi-family structures this past year.
Additional information on the latest population estimates for the state, counties, cities and towns is available at /pop/april1/.