New support website for HRMS users
WaTech and OFM are very excited to announce the launch of the HRMS Support Hub website, designed to create a user-friendly support experience for our Human Resource Management System (HRMS) professional user community.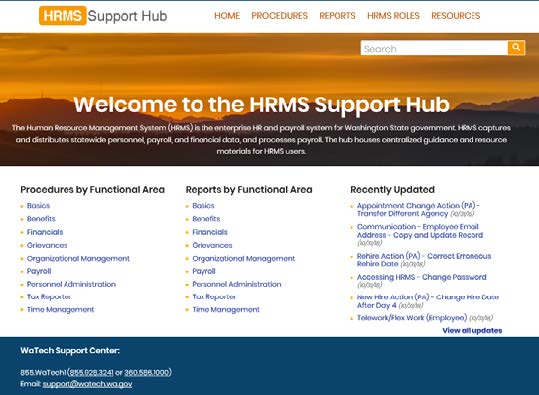 Key features of the new website include:
Improved search capability,
Updated instruction on completing transactions in HRMS:

Personnel Administration procedures are updated and complete,
A new functional area, Basics, has been added,

Integrated business guidelines and data definitions,
New tools such as Related Procedures, Related Resources and view options, and
Streamlined resources page
The HRMS Support Hub is a work in progress. The intent is to rebuild and update all pertinent user information on HRMS. So far, we have completed the HRMS Basics and Personnel Administration module.
We will continue to rebuild and update the content of each of the following functional areas with Payroll being next:
Payroll
Financials
Grievances
Organizational Management
Tax Reporter
Time Management
Reports by functional area
We will publish the updated content and notify HRMS users as we complete each module.
We have also created an online version of the HRMS Data Definitions Resource Guide, which replaces the existing Word document.