Medical Assistance Expenditure Forecast
Forecast purpose
The Medical Assistance Expenditure Forecast helps the state estimate medical services provided through Medicaid (Apple Health). To create the forecast, information is provided by the Caseload Forecast Council and OFM's official accounting system.
The forecast is used by both the governor and the Legislature to inform the budget for Health Care Authority. The forecast is also used for financial analyses and tracking expenditures.
The forecast is produced in February and October each year.
Workgroup purpose
The Medical Assistance Expenditure Forecast Workgroup (MAEFW) oversees the preparation and approval of forecast.
Workgroup members review financial data, caseloads, primary trends, Federal Medicaid Assistance Percentages, and step adjustments in response to legal, regulatory, or other significant changes.
Staff from the Health Care Research Center in the OFM Forecasting and Research Division coordinate the development and approval of the forecast.
The workgroup consists of staff from OFM, Health Care Authority, Senate and House fiscal analysts, and the Office of the State Actuary (as needed).
Charter purpose
The Medical Assistance Expenditure Forecast charter outlines members roles and responsibilities, describes guidelines for how the forecast is developed, and provides suggestions for continuous improvement.
The charter was developed in 2022 with input from members of the MAEFW. The charter has five sections detailed below.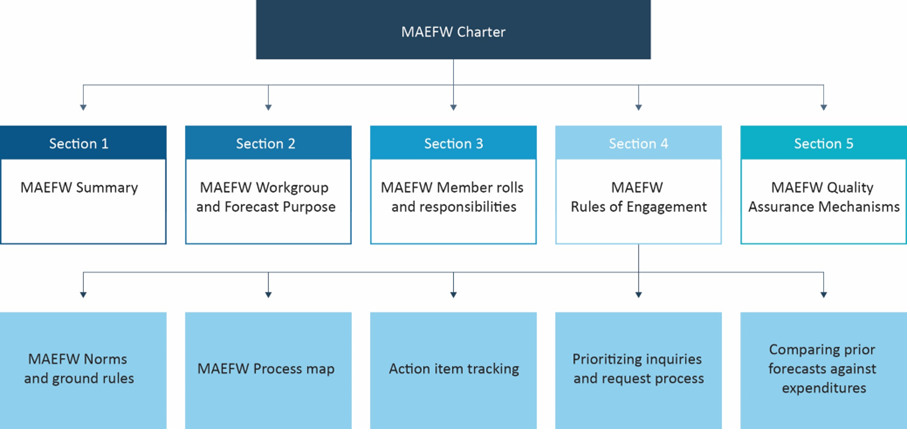 Text version of above image:
Sections of the MAEFW Charter
MAEFW Summary (Sec 1 of Charter)
MAEFW Workgroup and Forecast Purpose (Sec 2 of Charter)
MAEFW Member rolls and responsibilities (Sec 3 of Charter)
MAEFW Rules of Engagement (Sec 4 of Charter)

MAEFW norms and ground rules
MAEFW process map
Action item tracking 
Prioritizing inquiries and requests process
Comparing prior forecasts against expenditures

MAEFW Quality Assurance Mechanisms (Sec 5 of Charter)