Washington and U.S. per capita personal income
| Year | Washington | U.S. |
| --- | --- | --- |
| 2022 | $75,698 | $65,423 |
| 2021 | $78,373 | $68,132 |
| 2020 | $75,504 | $66,063 |
| 2019 | $71,738 | $62,865 |
| 2018 | $68,307 | $61,008 |
| 2017 | $66,340 | $59,719 |
| 2016 | $64,786 | $58,527 |
| 2015 | $63,248 | $55,005 |
| 2014 | $60,770 | $55,989 |
| 2013 | $58,304 | $54,304 |
| 2012 | $58,138 | $54,732 |
| 2011 | $55,348 | $53,498 |
| 2010 | $54,340 | $52,204 |
| 2009 | $54,325 | $51,406 |
| 2008 | $57,625 | $53,438 |
| 2007 | $57,423 | $53,486 |
| 2006 | $55,057 | $52,433 |
| 2005 | $52,869 | $50,725 |
| 2004 | $52,928 | $49,876 |
| 2003 | $48,026 | $48,783 |
| 2002 | $50,562 | $48,472 |
Inflation-adjusted to 2022 dollars
1980-2022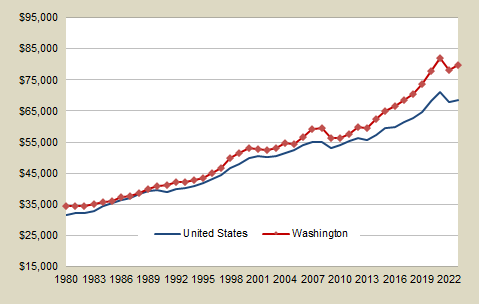 Personal income includes all income earned by Washington households, including wages, self-employment income, interest, dividends, rent, social security, and other transfer payments.
Washington per capita personal income has been higher than that of the United States overall in almost every year since 1980.
Income from stock options and software industry wages helped boost Washington's per capita income in the late 1990s.
In the fourth quarter of 2004 Microsoft paid a dividend of $3 per share, which increased the growth rate of Washington's personal income in 2004 by three percentage points above what it would have been without the dividend.
In 2022, Washington state ranked 7th among the states in per capita personal income.
Data source:
E-mail: OFM.Forecasting@ofm.wa.gov