Washington export activity
Value of Washington exports
2021 ($ Millions)
| Industry | Value |
| --- | --- |
| Total all Industries | $53,749 |
| Agricultural Products | $16,369 |
| Transportation Equipment | $14,105 |
| | $4,219 |
| Food & Kindred Products | $4,081 |
| Machinery, Except Electrical | $2,158 |
| Petroleum & Coal Products | $1,880 |
| Paper | $1,162 |
| Fish, fresh/chilled/frozen & other Marine Products | $1,087 |
| Chemicals | $1,078 |
| Waste and Scrap | $923 |
1997 to 2020
Inflation-Adjusted to 2021 Dollars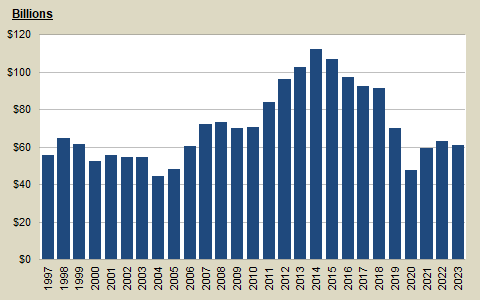 Between 1997 and 2005, Washington exports averaged of $40 billion of goods per year.
Between 2004 and 2008, total exports jumped from $34 billion to $55 billion due largely to a doubling of transportation equipment exports. The leveling off in 2008 was a result of a disruption in aircraft orders due to a protracted labor/management dispute. The slowdown in 2009 exports was due to the global recession.
Transportation equipment, primarily aircraft and parts, accounted for over 26.2% of Washington exports in 2021. Aircraft typically accounts for over 40% of Washington exports, bu the pandemic decline in air travel, and the 737 Max difficulties, resulted in a significant decline in Washington aircraft deliveries in 2020 and 2021.
Washington has consistently ranked in the top five states in exports during the last decade, and in 2021 ranked 8th in total value of exports behind Texas, California, New York, Louisiana, Illinois, Michigan and Florida.
Data source:
E-mail: OFM.Forecasting@ofm.wa.gov