Washington state population by race
2020
| Race | Population |
| --- | --- |
| Total | 7,656,200 |
| White | 5,991,203 |
| Black | 330,361 |
| American Indian Alaska Native | 140,345 |
| Asian | 735,427 |
| Native Hawaiian or other Pacific Islander | 61,684 |
| Two or more races | 397,180 |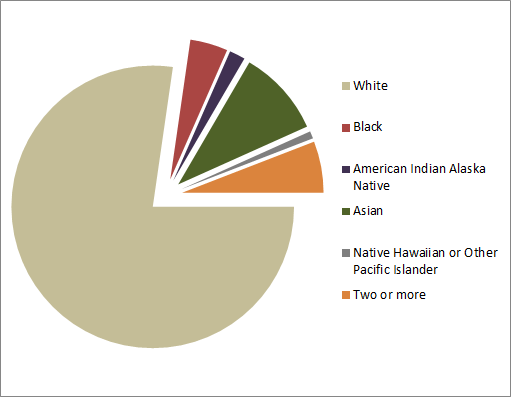 Respondents to the federal census were allowed to check more than one race category for the first time in 2000 thus
allowing the tabulation of persons of multiple race.
Asian's make up the largest minority racial group in 2020 with 9.2% of Washington's total population.
Non-white racial groups represented 21.3% of Washington's population in 2019.
Data source:
E-mail: OFM.Forecasting@ofm.wa.gov
Last updated
Friday, November 12, 2021