Income assistance (AFDC/TANF) caseload
Income assistance (AFDC/TANF)
Fiscal
Year
Average
Monthly Caseload
2020
26,178
2019
25,424
2018
26,031
2017
28,557
2016
31,287
2015
35,160
2014
42,572
2013
48,679
2012
54,436
2011
65,140
2010
64,451
2009
56,461
2008
50,121
2007
51,939
2006
55,523
2005
57,026
2004
55,610
2003
54,642
2002
55,044
2001
54,578
2000
58,796
Compared to Population Under Age 18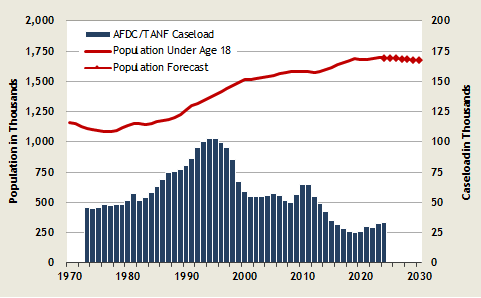 With the implementation of welfare reform in 1997, Temporary Assistance to Needy Families (TANF) caseloads dropped dramatically, despite the growing population of children under 18 years old. The share of children in TANF household declined to 2.5% in fiscal year 2020 from 7.0% in fiscal year 2011.
The population of infants, which had been growing through fiscal year 2010, flattened in fiscal years 2011 and began trending down after fiscal year 2017. The share of infants in TANF households declined to 4.0% in fiscal year 2019 from 12.2% in fiscal year 2010.
The increase in the AFDC caseload in the 1990s was a result of welfare reforms of that era, which stressed the need to prepare clients for work. Nationally it was known as the Family Support Act. In Washington, the program was known as the Family Independence Program (FIP).
Policy changes implemented in February 2011 were responsible for majority of the decline in subsequent caseloads.
Data sources:
E-mail: OFM.Forecasting@ofm.wa.gov
Last updated
Tuesday, December 29, 2020