Medical assistance caseload
| Fiscal Year | Average Monthly Caseload |
| --- | --- |
| 2020 | 1,287,490 |
| 2019 | 1,276,387 |
| 2018 | 1,287,887 |
| 2017 | 1,289,942 |
| 2016 | 1,244,026 |
| 2015 | 1,203,708 |
| 2014 | 1,156,600 |
| 2013 | 1,136,194 |
| 2012 | 1,125,384 |
| 2011 | 1,107,763 |
| 2010 | 1,052,649 |
| 2009 | 1,004,894 |
| 2008 | 940,683 |
| 2007 | 914,900 |
| 2006 | 913,070 |
| 2005 | 880,788 |
| 2004 | 875,363 |
| 2003 | 867,364 |
| 2002 | 833,476 |
| 2001 | 775,140 |
| 2000 | 744,321 |
Compared to Total Population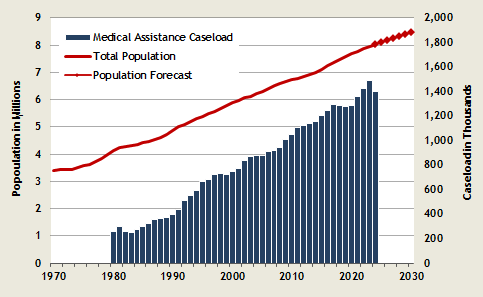 There have been several significant policy changes that have impacted the Medical Assistance caseload:
July 2007 - Cover All Kids expands health care coverage eligibility.
July 1988: First Steps expansion for children and pregnant women.
July 1994: Expansion to 200% federal poverty level (FPL) for children.
The Affordable Care Act made it possible for the potential enrollment of over 400,000 individuals to the medical assistance caseload. They currently do not have a budgetary impact because of the 100 percent federal match. They will be added to this tally in the future as the federal matching rates decline.
Data sources:
E-mail: OFM.Forecasting@ofm.wa.gov
Last updated
Tuesday, December 29, 2020