Medical assistance caseload
| Fiscal Year | Average Monthly Caseload |
| --- | --- |
| 2022 | 1,427,714 |
| 2021 | 1,361,265 |
| 2020 | 1,288,013 |
| 2019 | 1,279,783 |
| 2018 | 1,288,927 |
| 2017 | 1,289,857 |
| 2016 | 1,243,947 |
| 2015 | 1,203,654 |
| 2014 | 1,156,549 |
| 2013 | 1,136,194 |
| 2012 | 1,125,384 |
| 2011 | 1,107,763 |
| 2010 | 1,052,649 |
| 2009 | 1,004,894 |
| 2008 | 940,683 |
| 2007 | 914,900 |
| 2006 | 913,070 |
| 2005 | 880,788 |
| 2004 | 875,363 |
| 2003 | 867,364 |
| 2002 | 833,476 |
Compared to Total Population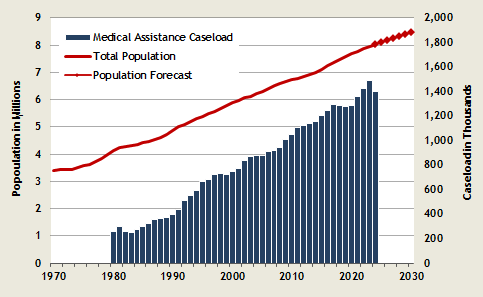 There have been several significant policy changes that have impacted the Medical Assistance caseload:
July 2007 - Cover All Kids expands health care coverage eligibility.
July 1988: First Steps expansion for children and pregnant women.
July 1994: Expansion to 200% federal poverty level (FPL) for children.
The Affordable Care Act made it possible for the potential enrollment of over 300,000 newly eligible low-income individuals to the medical assistance caseload. That has since expanded to over 770,000 potential individuals. Their budgetary impact is moderated because federal matching funds currently pick up 90% of the cost. More will be added to this tally in the future as the federal matching rates decline.
Data sources:
E-mail: OFM.Forecasting@ofm.wa.gov
Last updated
Monday, December 19, 2022