Prison inmate population
| Fiscal Year | June Inmate Population |
| --- | --- |
| 2022 | 12,972 |
| 2021 | 13,693 |
| 2020 | 15,829 |
| 2019 | 17,560 |
| 2018 | 18,112 |
| 2017 | 17,868 |
| 2016 | 17,578 |
| 2015 | 17,433 |
| 2014 | 17,502 |
| 2013 | 17,404 |
| 2012 | 17,087 |
| 2011 | 17,058 |
| 2010 | 17,096 |
| 2009 | 17,295 |
| 2008 | 17,104 |
| 2007 | 17,121 |
| 2006 | 16,808 |
| 2005 | 16,663 |
| 2004 | 16,563 |
| 2003 | 16,168 |
| 2002 | 15,743 |
Compared to Age 18 to 39 Male Population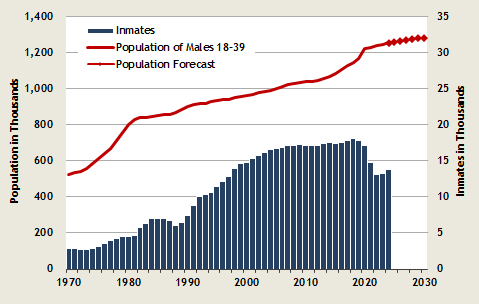 From 1970 through 1988, the prison inmate population closely tracked the population group most susceptible to incarceration -- males age 18-39.
The Sentencing Reform Act stabilized and lowered the prison caseload in the mid- to late 1980s, while new policies, including an emphasis on drug crimes beginning in the late 1980s had a dramatic impact on the size of the prison population.
In 1995, the "I-593 Hard Time for Armed Crime" Initiative created new and separate weapon enhancements for firearm findings and for deadly weapon findings. In 1998 the sentencing rules were clarified so that weapon findings were mandatory, not eligible for earned release time and to be served consecutive to the sentence of the underlying offense and to any other weapon enhancements.
A separate drug grid and drug seriousness levels were established for drug offenses occurring on or after July 2003. This specialized grid reduced the sentencing lengths and scoring for certain drug sentences.
2007 - Offender Reentry Initiative is implemented and expected to reduce future inmate caseloads through education, work force skills, and treatment programs.
Recent legislation requires some juveniles charged with serious violent offenses to be tried as adults, shifting some juveniles to the jurisdiction of the Department of Corrections from the Juvenile Rehabilitation Administration.
The recent declines in inmate population are driven by lower than projected admissions and an increase in releases as a result of SB 5164 and the Washington State Supreme Court decision
in State v. Blake. These required courts to resentence individuals serving Life without Parole due to Robbery 2 and those with possession convictions in their criminal history, respectively.
The impact of these shorter confinement sentences has been a caseload reduction.
Data sources:
E-mail: OFM.Forecasting@ofm.wa.gov
Last updated
Monday, December 19, 2022