State government FTEs compared to population
State Government Employment Including Higher Education
Fiscal
Year
State
Government
FTEs
2022
121,948
2021
119,834
2020
120,293
2019
116,895
2018
114,988
2017
113,731
2016
111,204
2015
110,537
2014
108,893
2013
107,568
2012
105,920
2011
107,494
2010
109,973
2009
112,546
2008
111,420
2007
108,693
2006
106,641
2005
106,769
2004
105,077
2003
104,263
2002
103,818
Operating and Capital Budget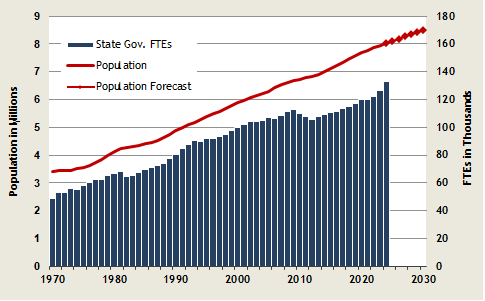 The number of full-time equivalent (FTE) state employees has generally tracked closely with growth in the state's total population.
While total population growth is a reasonable indicator of demand for state government services, growth of select population groups may further drive up demand for specific services like higher education, public assistance, or prisons.
The moderation in State Government full-time equivalent employment since 2009 has been a result of general revenue impacts in the aftermath of the "great" recession.
Since rebounding in 2013, State Government full-time equivalent employment reached a level in 2020 that exceeded its pre-recession peak (2009) by 6.9%.
State government FTEs grew in FY 2022 as COVID-19 mitigation policies impacted state government services, particularly general government and higher education.
Data source:
E-mail: OFM.Forecasting@ofm.wa.gov
Last updated
Monday, December 19, 2022