Approve/reject employee modern work environment request
Use this procedure to approve or reject requests for telework, compressed work week, flextime, and/or flex work hours submitted by your employees (or submitted by employees whose supervisor/manager assigned you as a substitute while they are out of the office).
Step 1
Select the My Inbox tile.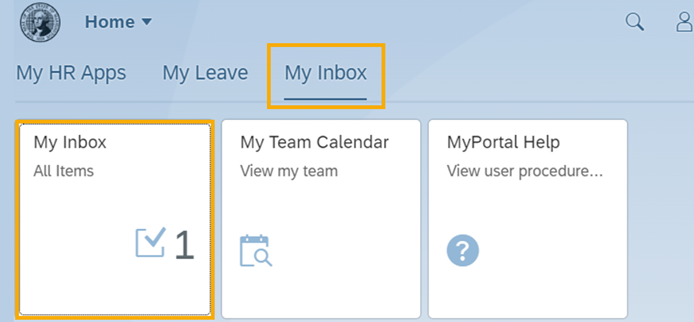 The number displayed on the My Inbox tile indicates the number of items that require action.
Step 2
Select an MWE request in the task list.

Use the Search box (located below the All Tasks heading) to search for a specific employee's request.

If My Inbox doesn't automatically refresh, select the refresh button (located next to the search box).

If you are designated as a substitute, you can approve or reject the requests for another supervisor/manager's employees. Their requests will be displayed "On Behalf of <<Supervisor Name>>" in the request.

For definitions, please refer to the HRMS data definitions resource guide.
Step 3
Select the Approve or Reject button (located on lower right corner).

Step 4
Input your decision notes (if applicable) and select Submit.

After you submit the approval or rejection, a confirmation message will be displayed (Task processed successfully) and an email notification will be sent to the requestor to inform them that the request was approved or rejected. The email notification will include your decision notes (if any).

If there are no additional tasks in My Inbox, 'No details are currently available' will be displayed. If My Inbox doesn't automatically refresh, select the refresh button located next to the Search box.