MyPortal - ESS Replacement Project
This guidance is for early users of MyPortal. Full how-to guidance will be available online once MyPortal is launched statewide.
What is MyPortal?
MyPortal is an employee self-service tool that allows employees to view their earnings statements and manage their own email address, mailing or permanent residence address, emergency contacts, and leave requests. While this same functionality is currently available through the ESS Portal, MyPortal provides a modern user interface and improved accessibility using assistive technology.
MyPortal will replace the existing ESS Portal.
When will MyPortal replace ESS?
May 16, 2020.
Why are we replacing the existing ESS Portal?
The current ESS portal uses outdated technology and would require unsustainable customization to meet our standards for accessibility.
MyPortal uses a more modern and accessible product called Fiori, an SAP solution that is compatible with our existing SAP HR/Payroll framework. This compatibility will allow us to more easily implement future enhancements such as basic timesheet or access to mobile apps.
What will be available with MyPortal?
Initial implementation of MyPortal will include all functionality that currently exists in the ESS Portal today:
Viewing/printing earnings statements
Managing email address, permanent residence/mailing addresses, and contact information
Managing emergency contact information
Submitting/approving leave (for participating agencies)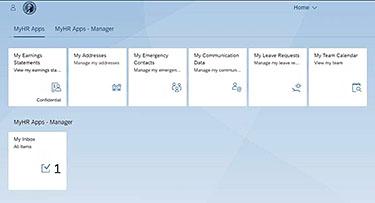 MyPortal will include all the functionality that exists in ESS today, with improved usability and accessibility.
A future release will include the ability to submit a basic timesheet for agencies that do not have advanced timekeeping needs.
Who should I contact with questions?
Contact the OFM Help Desk: 
What if my agency is considering switching to ESS Leave in the near future?
We recommend agencies hold off implementing ESS Leave until the new MyPortal application is available. The existing ESS Portal will be decommissioned as soon as MyPortal goes live.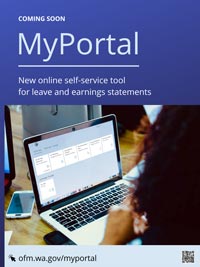 MyPortal poster [PDF, 4MB].